Nissan Altima Approved Tire Center

Nissan Altima Approved Tire Center Service in Las Vegas
Nissan Altima Approved Tire Center in Las Vegas
Nissan Fuel Injection Cleaning
Where the rubber meets the road, everything is riding on your Nissan Altima Tires. Somewhere between luxury and performance is the Nissan Altima driver that needs a good set of tires to maximize their car's performance with the smoothest ride possible. At United Nissan, we are proud to announce a new opportunity for Nissan Altima owners to get any tire-related service at the Nissan Altima Approved Tire Center. The entire premise of offering a Nissan Altima Approved Tire Center is providing our loyal customers convenient, easy, and price-effective access to any tire service that they need for the best driving experience and safety possible.
What Tire Services do you offer at the Nissan Altima Approved Tire Center?
When we started thinking about the Nissan Altima Approved Tire Center, first and foremost, we knew that the service offered had to be comprehensive. We offer anything your Nissan Altima needs for its tires. Here is a list of the tire service provided by United Nissan at the Nissan Altima Approved Tire Center with a summary of each:
Sales & Installation – No matter if you need a single replacement tire or a set of all four, we carry a broad selection of the most popular brands and tire types that are Nissan-approved for fit and performance on your Nissan Altima. We'll also install any new tire purchase quickly and at affordable pricing to get you back on the road
Inspection & Tread Depth Check – an evaluation of tire health looking for safety concerns as well as a tread depth check to determine if any tires require replacement
Inflation Check and Adjustment – tire pressure is checked and pressure adjusted as needed to restore factory specifications
Wheel-Tire Alignment – computerized equipment will evaluate tire angles and reset them as necessary so that opposing tires are parallel while being perpendicular to the road
Rotation – tires are moved to a new wheel location to promote even tread wear patterns and extended tire life, saving you money in the long run on tire replacement costs
Balancing – a computerized wheel balancer will be used to establish perfect weight distribution across the wheel-tire assembly
Get any Tire-Related Service for your Nissan Altima at United Nissan
If you need anything related to your tires, bring your Nissan Altima to United Nissan and take advantage of our Nissan Altima Approved Tire Center. We are always ready to restore your tires to peak performance, reliability, and safety. United Nissan is conveniently located in Las Vegas within driving distance of Paradise and Spring Valley, Nevada.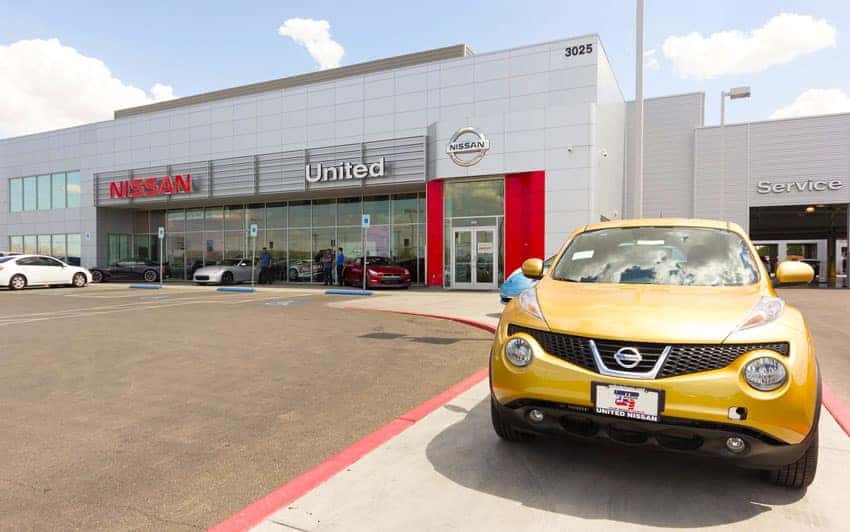 Why United Nissan Service Center?
Nissan Certified Trained Technicians

Luxurious Customer Lounge

Express Service Offerings

Courtesy Service Shuttle

Complementary Coffee

Stocked Snack and Beverage Bar

Flat Screen T.V.

Parts Boutique

Friendly Staff

Magazines & Newspapers