Nissan Maxima Oil Change Service

Nissan Maxima Oil Change Service in Las Vegas
Nissan Maxima Oil Change Service in Las Vegas
As the engine in your Nissan Maxima generates power from combustion, it can create lots of friction and heat. Engine oil is what protects the various moving parts inside the engine from getting too hot. If the engine overheats, the consequences can be catastrophic regarding damage, repair costs, and losing much-needed transportation. Given the importance of engine oil for your Nissan Maxima, one of the easiest ways to promote peak engine performance, longevity, and reduce long-term repair costs is with a regular Nissan Maxima Oil Change Service.
Warning Signs that I need an Engine Oil Change in my Nissan Maxima
At United Nissan, we get asked all the time, "How often does my Nissan Maxima need an oil change?" It's an excellent question considering how vital the engine oil is to your vehicle's health, performance, and longevity. The best way to know when you should schedule an Oil Change Service for your Nissan Maxima is consulting with your owner's manual because the service interval varies depending upon the year of manufacture. At United Nissan, we also recommend monitoring your engine's performance and the engine oil's visible condition in case the oil starts to break down faster than the recommended service interval. Here is a list of the most common warning signs that your engine oil is breaking down and requires an Engine Oil Change Service to restore factory specifications and peak performance:
Engine oil is dark, dirty or gritty
Knocking or louder sound from the engine
Engine is running hotter than usual
Engine Overheats
Oil change indicator or check engine light is on
Smell of oil inside cabin
Darker exhaust smoke
Optimum Engine Cooling and Longevity with Regular Oil Change Service
Optimum Engine Cooling and maximum engine life are possible by following the recommended maintenance interval for your Nissan Maxima's Engine Oil Change Service. Bring your car to us for an oil change, and we'll assign one of our factory-trained Nissan certified technicians to the job. Gain peace of mind with your next oil change because the service team at United Nissan knows your vehicle inside and out. United Nissan is conveniently located in Las Vegas near Paradise and Spring Valley, Nevada.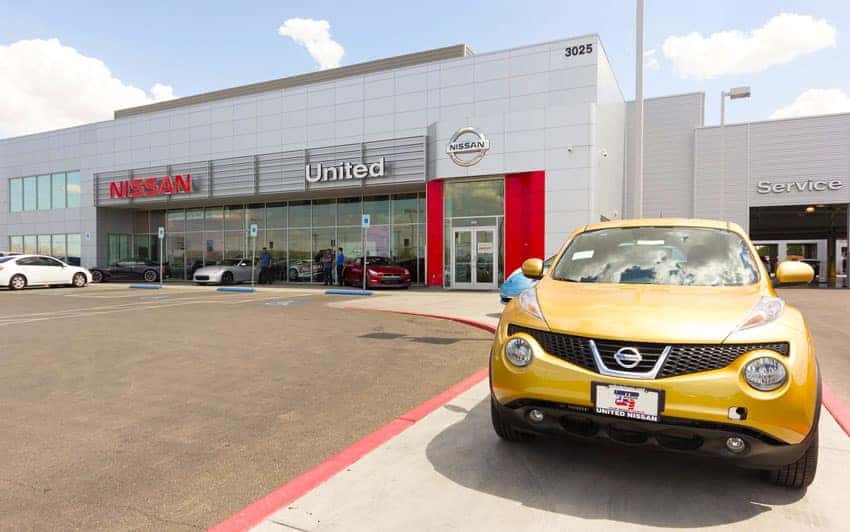 Why United Nissan Service Center?
Nissan Certified Trained Technicians

Luxurious Customer Lounge

Express Service Offerings

Courtesy Service Shuttle

Complementary Coffee

Stocked Snack and Beverage Bar

Flat Screen T.V.

Parts Boutique

Friendly Staff

Magazines & Newspapers